Free Bus pass scheme for School Students in Tamilnadu
What is the Purpose of free Bus Pass scheme in Tamilnadu ?
To facilitates the students to reach on time and safely
To Reduce the financial burden of the Poor students / parents
To avoid school drop outs because of the longer distance especially in villages.
Eligibility Requirements for Free Bus pass Scheme in Tamil Nadu
The students studying from 1st standard to 12th Standard are eligible for getting free bus pass to travel to School.
The Applicant Should be from the state of Tamilnadu and Studying in Tamilnadu Private / Government school.
Student can travel only from Home to School, via ordinary local government town buses
Whom to Contact for Availing the Free Bus pass ?
Students / parents can approach school Headmaster for getting the free bus pass.
Documents Required for getting Free Bus Pass to go to School
Residential Address Proof of the Parent / Student
Passport Size Photo of the student
Student School Identity Card attested by the Headmaster
What is the validity of the Students free bus pass ?
Students free bus pass is valid till the end of academic year, which is reissued yearly based on the request.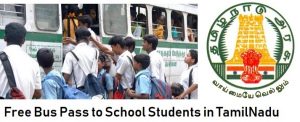 Which is the department responsible for monitoring the Free Bus pass Scheme for Students?
students free Bus pass Scheme in Tamilnadu is controlled by School Education Department, which has the authority to revise the free bus pass scheme with or without any notice.
Who can use the School Free bus pass scheme provided by the Tamilnadu government ?
All Students, studying from 1st Standard to 12th Standard are eligible for getting the Free Bus Pass, to travel in local town bus from School to home, twice a day!
There are no limitation on poverty line or community reservation to avail this scheme. All Students of tamilnadu can use this free bus pass scheme